Deirdre & Liam Steele Holding Cheese.
In 1976, Veronica Steele dreamed of creating a world-class cheese. Her legacy is Milleens, a washed rind cheese that put Ireland on the cheese map. Melanie May explores the story of Ireland's most important cheese.
"As we all know, any fool can make a 'cheese.' It takes a genius to ripen it." So wrote Veronica Steele, maker of Milleens and mother of Ireland's farmhouse cheese revolution. Created on the rugged Beara Peninsula in West Cork in 1978, the philosophy student's soft, washed-rind raw milk cheese became synonymous with the birth of the modern Irish farmhouse cheese movement.
Veronica was a diligent and driven cheesemaker, qualities shared by Quinlan, her son, who took over at Milleens in 2003. "My mother and I would be very similar in many ways. We develop fascinations with certain things like making cheese, and then just become absolutely obsessed with them until we've explored every avenue of the art."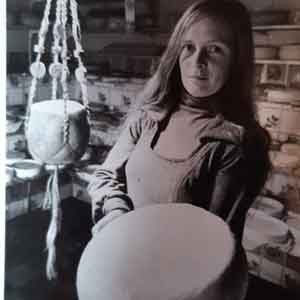 In 1976, Veronica was living in a stone cottage on a smallholding at Eyeries on the weather-beaten Beara Peninsula. Here she began making European-style cheeses and cheddars, with mixed results. Encouraged by her husband, Norman, to try something different, she began creating semi-soft cheeses. Of one such cheese, she noted, "It was a quare hawk alright. Wild, weird, and wonderful." That cheese was Milleens.
Cheesemaking in Ireland goes back to the Celtic times but the craft had died out by the 18th-century. In the 1970s, when Veronica started dabbling in dairy, the cheese market was dominated by mass-produced Calvita and Galtee.
It was "hunger and shame" that led to the creation of Milleens: Veronica's local greengrocer closed and she could no longer buy good cheddar. She then witnessed a French couple "asking for the local cheese and being given Calvita." Determined, she set about creating an Irish cheese that would "defeat Switzerland and Italy and France on the road to world domination."
Explore & Book
Food & Drink Experiences